Malvern cerebral palsy boy to be awarded millions in payout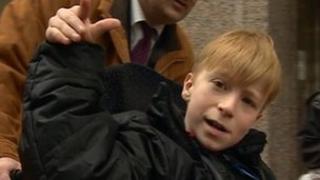 A boy who was starved of oxygen at birth, leaving him with cerebral palsy, is set to receive a multi-million pound compensation payout.
Daniel Spencer, 11, from Malvern, requires round-the-clock care following the problems during the labour at Worcestershire Royal Hospital.
Worcestershire Hospitals Trust has accepted more could have been done in an agreement at Birmingham High Court.
It paves the way for a settlement, lawyers have said.
Daniel needs a wheelchair and struggles to communicate because of his condition, which arose after midwives did not react quick enough when his mother Susan began bleeding during labour.
'Uphill battle'
They also failed to notify a doctor of the child's fluctuating heart rate.
Daniel's parents, who have three other children, said it had been a long battle to get the money.
His father Olly Spencer said: "It means so much. We can get things in place to protect Daniel in the future and help make his life a lot easier.
"We can get special aids and equipment that mean he'll be able to get around better and hopefully give him the chance to communicate better.
"It just seems to have been one long uphill battle to get to where we are today."
Sara Burns, a medical law expert acting for the family, said he was set to receive a "very comprehensive care package".
Ms Burns said: "Daniel's family have shown tremendous devotion and support to help him achieve the best quality of life possible over the last 12 years, but the fact remains that his brain injury is so severe he needs specialist help from professionals."
A statement issued by the NHS trust read: "The trust accepts the ruling of the court and is pleased that Daniel's future is now secure."