Hereford link road compulsory purchase agreed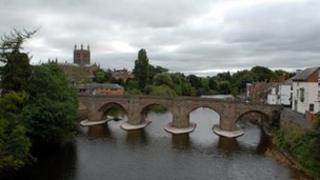 Compulsory purchase orders could be used to acquire 26 acres of land in Hereford city centre for a new road.
Herefordshire County Council agreed it would use the powers to buy land if agreements cannot be reached with the landowners along the planned route.
The Conservative-run council claims the £27m road is crucial for the regeneration of Hereford.
Talks between the council and businesses, including Jewsons and the Post Office, are continuing.
Councillor Graham Powell said ahead of Thursday's cabinet meeting: "We have been having positive conversations with many of the businesses there.
"Some have already moved and we are still in negotiations with others and I would sincerely hope we reach a positive conclusion with all of them."
The road is part of a regeneration plan which would see 800 new homes built.