Murder accused 'speculated on wife Alethea Taylor's fate'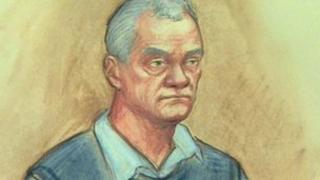 A funeral director accused of murdering his wife told another undertaker she may have been carried away by someone in a car, Worcester Crown Court heard.
John Taylor, 61, denies murdering wife Alethea, who was last seen in Orleton, Herefordshire, in January 2012.
Funeral director Victoria Allen told the jury "Quite often he said that somebody must know where she is."
Under cross-examination, she agreed with the defence there was "absolutely nothing remarkable" about his comments.
The Crown alleges that Mr Taylor murdered his wife and disposed of her body while having an affair with another woman.
Ms Allen said Mr Taylor claimed someone must know the whereabouts of his wife.
'Goldfish bowl'
Asked by prosecution barrister Jonas Hankin if Mr Taylor had ever mentioned his wife's size, the witness replied: "Only in general conversation.
"He actually did say when it [the disappearance] came to light - 'I couldn't have picked her up because she was a good size 14 to 16. It couldn't be me'."
In response to further questions from Mr Hankin, Ms Allen said she had seen the defendant lift up bodies of people weighing about 18 stone (114kg) when he was helped by a male colleague.
Questioned by defence QC Ignatius Hughes, she said it was common knowledge Mr Taylor was under surveillance at the time he made remarks denying any involvement in his wife's disappearances.
She also agreed with Mr Hughes it was fair to describe Mr Taylor as a "man in a goldfish bowl in a small village expressing wonderment about what was going on and saying he had nothing to with it".
The trial was adjourned until Monday.