Horsemeat tests on Worcestershire school meals 'negative'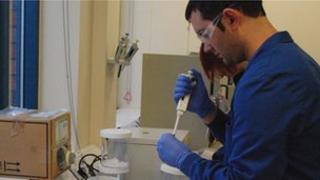 Initial tests on school meals in Worcestershire have found no traces of horsemeat, the county council said.
The council's Scientific Services has been carrying out the tests to check meals are of the required standard following the horsemeat scandal.
Paul Hancock of the facility said of eight food samples tested so far "all are negative for equine DNA".
Several processed meat products have been withdrawn from sale across the UK after horsemeat was detected.
Beef has been removed from school meals across Staffordshire as a precautionary measure.
Worcestershire County Council said last week it was up to individual schools to decide whether they wanted to remove beef from school menus.
However, the council felt it was "appropriate" for it to test meals from a number of schools in the county as it was among only a small number of local authorities with its own specialist testing unit.
Full results of the exercise are expected next week.
The unit is also carrying out tests on samples of meat from across the UK.