Severn Stoke church reopened after flooding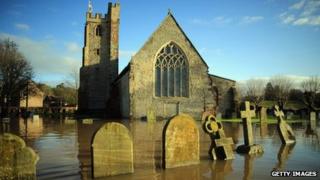 A church that was damaged when the River Severn in Worcestershire burst its banks in December has reopened.
Carpets and pews at St Denys church, Severn Stoke, suffered water damage in the floods.
The Reverend Mark Badger said there was "great joy" in the congregation to be back in the church.
He said as they continued with the refit they would be looking at ways to make it easier to protect the church from future flooding.
"We are making contingency plans for how we might react in the future more swiftly and easily in the event of flood warnings," he said.