Whitbourne School faces closure in July as numbers fall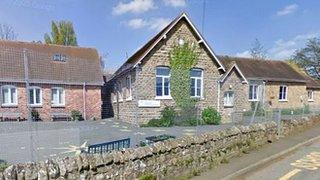 Whitbourne CofE Primary School could close at the end of this school year.
Herefordshire Council said pupil numbers have fallen to 25 and forecasts indicate they may fall even further.
Belinda Beale, a parent with two children at the school, said regardless of its size the small school provides "a fantastic education".
She said: "I went to the school in the late 70s and it's awful to be told my children can't have the fantastic experience I had."
Mrs Beale does not drive so is concerned travelling to another school would be a "predicament".
'A tragedy'
Liz Cousins, a resident for 10 years, said: "I think a school is absolutely essential for a vibrant community.
"To see a school go is a tragedy but I think there are enough people here with the energy and drive to try and keep it going."
She said there are ambitions for more affordable housing in the village, which would then increase demand for a school.
Chris Baird, assistant director of Herefordshire Council, said: "Schools with small rolls face considerable challenges not least budgetary ones.
"[We will] explore every possible avenue for the future. Possibilities include working in collaboration with another or other schools.
"Alternatively there may be a community group that wishes to pursue a free school option."
There is a public meeting at Whitbourne Village Hall on Wednesday at 19:00 GMT to discuss the potential closure.
A final decision is expected in March.