Signalman stuck in a toilet: Network Rail apologies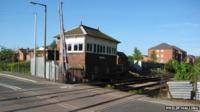 Network Rail has apologised after a signalman got stuck in a toilet, causing delays to train services.
Passengers were inconvenienced after contact was lost with the signal box at Henwick in Worcester.
The driver of the 15:13GMT Hereford to London service got out of his train and walked to the signal box to investigate.
It was then discovered the signalman was stuck in the Victorian building's outside toilet.
A Network Rail spokesman apologised for the inconvenience caused to passengers by the unusual episode on 6 February.
He said: "Much of the railway is still controlled from Victorian signal boxes, which often have outside loos.
"Our plans to modernise the railway will see control moved to state-of-the-art regional control centres, where unfortunate incidents such as this simply wouldn't be an issue.
"We apologise to anyone whose journey was delayed or disrupted as a result."