Miles of Herefordshire's roads 'need work'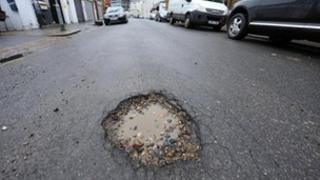 About 258 miles of Herefordshire's roads need long-term work to prevent their conditions deteriorating any further, council officials have said.
Highways chiefs said flooding and icy conditions had left them struggling to repair potholes and other defects.
They said the government had given them an extra £2.4m to help deal with the problems on the county's roads.
However, the council said more money would be needed to deal with any other defects likely to emerge in the future.
Herefordshire has a total of 2,000 miles of roads.
Highways officials said 21 miles of the 258 needing long-term work were on A-roads.
The council said the most urgent cases were being looked at first.