Charlie Harris-Beard's leukaemia battle in social media campaign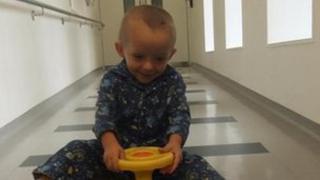 A social network campaign to draw attention to a toddler's fight against leukaemia has reached more than two million people.
Two-year-old Charlie Harris-Beard, from Kidderminster, has a terminal form of acute myeloid leukaemia.
He is currently receiving treatment at Birmingham Children's Hospital, where his family said he was comfortable.
Friends of the family used the Thunderclap website to raise awareness of his condition.
The site has previously been used by the Royal British Legion to promote the two-minute silence on Armistice Day and by the UN to support World Humanitarian Day.
'Not alone'
It sends a co-ordinated message on both Facebook and Twitter to feeds of anyone who has chosen to follow or be friends with Charlie on the social media sites.
Claire Halliwell, who set up the campaign, said some two million people had been reached across the world when a message was sent on Saturday.
"We want people who have children with the same illness, or just cancer in general, to know they are not alone," she said.
"We also want to pass on our research and experience to other families."
The Facebook page is also being used to encourage people to consider becoming bone marrow and umbilical cord donors.
The two-year-old was first diagnosed with the rare form of leukaemia at 10 months old and despite four courses of chemotherapy struggled to overcome the illness.
After receiving a bone marrow transplant and stem cell treatment from an umbilical cord donated by a woman in the USA, his condition seemed to improve.
He was readmitted to Birmingham Children's Hospital last year, however, and in November his family were told he had just weeks to live.