Bewdley flood barriers assembled as river levels rise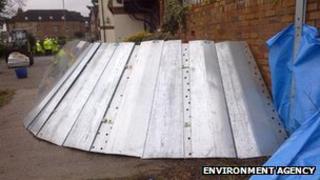 Further flood defences have been put up in Worcestershire as heavy rain continues to increase river levels.
The Environment Agency said temporary barriers were going up at Severnside North and South in Bewdley.
A peak level of about 4m (13ft) is expected to occur on the River Severn gauge at Bewdley.
Several flood warnings were issued for Herefordshire and Worcestershire, including two for Upton-upon-Severn. A warning for the Wye has been lifted.
The Eckington bridge has been closed by Worcestershire County Council and local buses are operating revised timetables.
The Jubilee bridge at Fladbury was reopened on Wednesday.
Flood gates were closed to protect Upton-upon-Severn on Monday and floodwaters are not expected to reach their peak until Wednesday afternoon.
Local farmer manager, Al Walker, said: "Since they put the flood defences in, it floods a lot more at our end of the town and any time the flood defences shut the main road floods.
"The defences protect the main tourist area but the water has to go somewhere and blocking it off on one one side of the bridge actually means it goes further."
Hereford and Worcester Fire and Rescue Service said it had not been called to any flood-related incidents since Sunday.