Flood warnings in place for Herefordshire and Worcestershire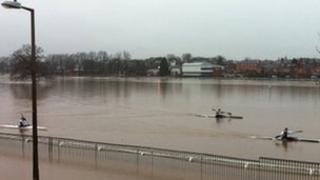 Sixteen flood warnings are now in place in Herefordshire and Worcestershire following heavy rain.
Eight of them apply on the River Severn, of which three are in force at Upton-upon-Severn, Worcestershire.
Four warnings on the River Wye include Hereford and a stretch between the city and Ross-on-Wye in Herefordshire.
Another four are on the River Avon, at Evesham, at Wyre Piddle, at Strensham and Bredon and at Birlingham including Eckington Bridge.
The Upton-upon-Severn warnings are at East Waterside, at Hanley Road and at Rectory Road.
Other River Severn warnings are at Callow End and Court Meadow, Kempsey, at Bevere, in South Worcester, in North Worcester and at Clifton and Severn Stoke including Clevelode.
David Throup, Environment Agency area manager, said: "Levels are high, and particularly high in Worcester, where it is probably the highest it's been since July 2007.
"I think the Severn is now as high as it's going to get."