Molly Grove, 3, returns to Broadway after US operation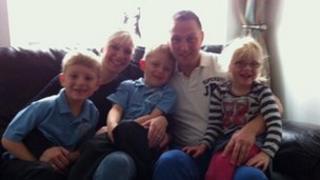 A Worcestershire girl who was flown to the United States for an operation to help her walk has arrived home.
Three-year-old Molly Grove, from Broadway, has spastic diplegia cerebral palsy which caused a painful tightening in her legs.
More than £64,000 was raised for the £50,000 operation at the St Louis Children's Hospital in Missouri and two years of physiotherapy.
Molly and her mother got back on Monday after several weeks in the US.
Her father Richard Grove said Molly suffered brain damage caused by lack of oxygen at birth which means her muscles get over stimulated.
The three-hour operation last month severed the nerves responsible for over-stimulating those muscles.
Mr Grove said Molly would now have to undergo two years of intense physiotherapy.
He said: "She'll have to do swimming, stretching, treadmill work - anything to build those muscles up to get here strong and help her walk.
"We can see so many differences, after the operation she was so weak and unable to do very much at all - she was like a floppy doll.
"But we're so pleased to be back together as a family, it's like an early Christmas present."