Nyree and Sasha Kindred 'inspired by daughter'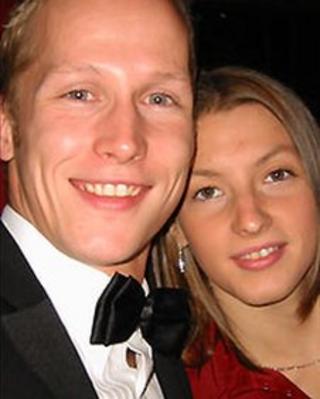 Paralympic swimming stars Nyree and Sasha Kindred say their baby daughter Ella has inspired them to do well at the 2012 Games.
The Hereford couple said she was the "alarm clock" to wake them for training and they hoped to make her proud.
Mrs Kindred (nee Lewis) said she was looking forward to walking out in the Aquatics Centre and seeing her 14-month-old daughter in the crowd.
The couple have 20 Paralympic medals between them, including eight golds.
Nyree Kindred qualified for the 100m backstroke event in March, just eight months after giving birth.
"Hopefully I'd like to swim fast and take a world record if I can," she said.
"It will be great for me to walk out for my race and just look up into crowd and see my daughter there and just see that she's excited and happy to see me walk out and is part of the experience."
Sasha Kindred, who has 11 Paralympic medals, will be competing in four events at the Games.
The athlete said his main focus would be defending his 200m individual medley title.
He said Ella was "their number one fan" and watched training from the sidelines while playing with her toys.
"Ella's been really good. I think she's a baby that knows we are athletes," he said.
"She gives us a good night's sleep and is sort of our alarm clock to get us up for training."
He said they had had a lot of support from the local community, family and friends over the past year.
Meanwhile, Ella has been having swimming lessons since she was three months old, which the couple said was mainly to ensure her safety beside water in the future.
Mr Kindred added: "We want to give our best performance to make her proud so in the future she can say 'my mummy and daddy swam at the Paralympic Games in London, at the home Games' and she can be proud of what we've done."