Evesham Abbey bridge closure 'could cripple business'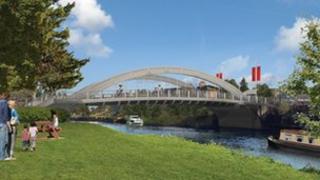 Traders in a Worcestershire town have said the closure of a bridge next summer could cripple trade in the town.
Abbey bridge in Evesham will be shut for up to 10 weeks while Worcestershire County Council replace the structure.
Chairman of the Vale of Evesham Commerce and Tourism Association, Tony Rowland, said any disruption to traffic flow in the town impacts on businesses.
A council spokesperson said rebuilding it, which will cost around £8m, is essential for the future of the town.
Mr Rowland said: "There's no fat on the bone for many traders, some are living hand to mouth - it could be crippling."
The council said the bridge will be closed to traffic during June, July and August 2013 for 10 weeks instead of the 12 months initially planned.
The spokesperson said: "Keeping any closure time to an absolute minimum was a key consideration when it came to awarding the contract for the work.
"A package of measures [will be introduced] including extensive signage around the area and an investment of £200,000 to help promote the town, reduce car parking charges and help businesses."
Loyalty card plans
Mr Rowland said the closure would be the third in 10 years.
Many businesses were badly hit after the 2007 floods when access was restricted, and traders struggled when the high street was refurbished in 2010, he said.
Mr Rowland said: "Many of them experienced a turnover drop of 40 and 75% so this period of disturbance is going to be very traumatic once again.
"We're in the middle of a recession which is already affecting the retail sector and the growth in internet shopping means the volume of passing trade is altering anyway."
A loyalty card designed to boost trade in the town is being launched in October.
The scheme has been jointly funded by Worcestershire County Council, Wychavon District Council and Evesham Market Town Partnership.