Hereford Racecourse could be run by local group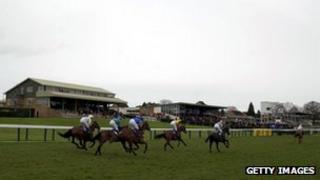 A community-led group could take over the running of Hereford Racecourse, according to Herefordshire Council.
Last month, operators Arena Leisure and Northern Racing announced the racecourse would close at the end of the year.
The company said the site had not been viable for several years.
Herefordshire Council said its main focus was on trying to agree a deal with the current operators, but that a local group had come forward.
A statement on the local authority's website said: "A group of local people... have made public statements about their willingness to take over the racecourse if Northern Racing cease to do so."
The council said a meeting had been arranged with Northern Racing early next month to renegotiate the lease.
The operator said the current 17-year deal made it difficult to invest in the racecourse.
Last week the council said it had proposed a new 125-year agreement, along with a chance to develop a hotel on part of the site.
In the statement, the local authority also said it had contacted the British Horseracing Authority to seek their support to stop fixtures being moved from Hereford Racecourse.