Hereford Racecourse: Fresh hopes for future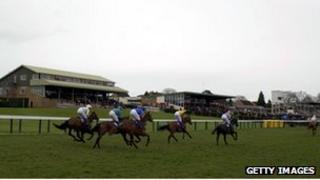 Hopes have been raised that Hereford Racecourse could be saved after an improved deal was offered to the operator.
On Friday, Arena Leisure and Northern Racing announced the racecourse would close at the end of the year.
The company said it had been "unviable" for several years and the remaining 17-year lease made investment difficult.
Herefordshire Council leader John Jarvis said a 125-year lease was on offer, with a chance to build a hotel.
Mr Jarvis said a hotel and conference centre could help make the site viable in the long term.
'Herefordshire's culture'
He said: "When you think Celtic Manor in the south, Chester in the north and nothing in-between.
"Go down the A49, not only haven't we got a bypass, we haven't got a four-star business hotel. We need that and we need a conference centre."
Mr Jarvis said the lease offered was similar in lifespan to one in place at the nearby cattle market.
He added that if Arena Leisure and Northern Racing decided to pull out of the town the council would approach other operators and developers.
He described horse racing as an "important part of Herefordshire's culture and the local economy".
Mr Jarvis also ruled out building homes on part of the racecourse, saying it was "not an option".