Hereford Racecourse closure 'will hit city's economy'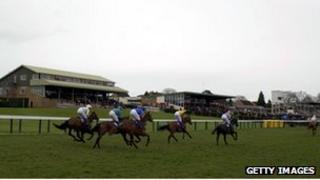 The closure of Hereford Racecourse will have an impact on the city's economy, the chamber of commerce says.
Arena and Northern Racing has announced that the course, which had been "unviable for several years", will close at the end of the year.
Mike Ashton, chief executive of the Herefordshire and Worcestershire Chamber of Commerce, said tourism would be hit, particularly hotels.
Meanwhile, a petition has been set up to try to save the course.
Mr Ashton said discussions with hoteliers had shown that, "almost at every race meeting there were three or four hotels which were full because of the race meeting, and people just don't tend to notice that".
"So local tourism-type businesses, the hotels and bed and breakfasts, they will certainly notice the difference, I think."
'Important course'
He said meetings attracted at least 500 racegoers to the city, so the retail sector would also be affected.
Arena Leisure and Northern Racing decided to close the course following unsuccessful attempts to extend the 17-year lease from the county council.
The firm's managing director, Tony Kelly, said: "Despite being unviable for several years we have supported the racecourse, but much needed investment, required to breathe new life into the racecourse, cannot be justified in the absence of a long-term future for the business."
Herefordshire County Council said it "deeply regrets" the firm's decision.
"The lease between the council and the racecourse has a further 17 years to run and the council remains willing to discuss options with the company for the continuation of racing in Hereford," a statement said.
Neil Jeffery, a horse-racing fan from Hereford, said more than 600 people had signed a petition he set up to save the course.
"It ranges from people worried about what the council plans to do with the land to people from the horse-racing industry saying that this is part of an infrastructure - it's somewhere people cut their teeth and it's an important course for the National Hunt racing industry," he said.