Broadway villagers upset over church upkeep liability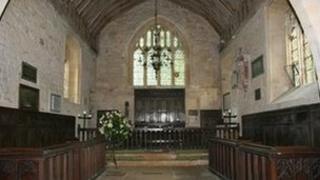 Villagers in part of Worcestershire are unhappy at the prospect of being forced to pay towards the upkeep of their church because of an archaic law.
About 30 Broadway households were sent letters explaining they could be made to pay for repairs to St Eadburgha.
A Diocese of Worcester spokesperson said the parochial church council (PCC) had sought to register properties for a chancel repair liability.
But they added that the PCC did not want to enforce it.
Resident Stuart Edwards said he had been sent a letter from the Land Registry earlier this month and felt the request to get the liability on to the deeds of his property was "unfair".
'Difficult position'
He said: "It's an age-old law. These laws have never been enacted for 300 years and all of sudden the church has said 'we want'.
"It's not just the question of they want money from us to repair the church, it's a blight on the property.
"The reason they're doing this is the government has insisted.
"I think they've given them five years, to get it on to the title deeds."
Robert Higham, diocesan secretary for Worcester, said that the PCC was in a "difficult position" because it was "obliged by charity law" to see if the liabilities existed.
Mr Higham said: "Clearly the PCC members in Broadway haven't been wanting to cause this upset, which is so very evident.
"The position of the PCC is that it doesn't want to ask for that money, it hasn't asked for that money, and it wants the Charity Commission to confirm that that's the position that will always apply.
"It is the PCC's decision, but they need to get clearance, otherwise the members could be personally liable if any bills arose in the future."