Horse cruelty inquiry in Herefordshire prompts arrest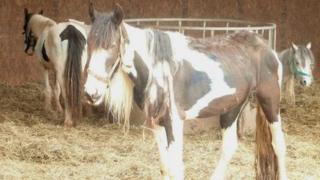 Eighteen malnourished horses and ponies have been found in sheds in Herefordshire with no food or water, prompting the arrest of a man.
Two of the animals have since died after West Mercia Police recovered them from two sites in the county.
Bransby Home of Rest for Horses, in Stoke Prior, near Leominster, is caring for the surviving 16.
The horses and ponies were found malnourished and eating their own waste and soil from the floor of the sheds.
Bransby manager Philip York said: "It's one of the worst cases of cruelty I've seen and it's very sad that we lost two."
The arrested man has since been released on bail.
'Survival instincts'
Mr York said: "For animals to become that emaciated I believe they would have been deprived of food over a prolonged period of time.
"There were water butts with not a drop of water in them.
"But animals have strong survival instincts and if they can smell water or moisture below their bedding they start digging down to find it."
The animals are being kept in quarantine at the centre while veterinary test are carried out.
Mr York said: "Two of the animals were just too far emaciated but I'm confident that the rest will make it."
"They've got very good chances with plenty to eat and proper veterinary care and attention."
He added the rest home had taken more than 100 animals into care to date this year - which Mr York described as an "unprecedented" number.