Buchanan Trust trust 'fails' ex-servicemen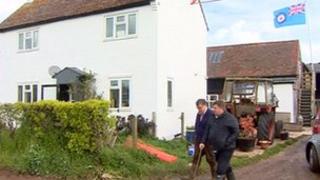 Farmland in Herefordshire run by a charity is "failing" its intended recipients, according to an ex-soldier.
The Buchanan Trust was set up in 1919 in memory of Alan Buchanan, who died during World War I with the aim of providing land to former servicemen.
The trust administers seven farms totalling 650 acres around Bosbury, near Ledbury, and said they were being run "in the spirit" intended.
Tony Finlay said he had been battling for two years to rent a farm.
Mr Finlay, who spent 22 years in the army, said he hoped to open a "care farm" on the land to help rehabilitate homeless ex-servicemen and women.
He set up the charity ExMoD Ltd in 2007 after experiencing homelessness himself.
Mr Finlay said he met with the land agent in spring 2010 to discuss renting one of the Buchanan Trust farms, who said a property would be available in six months.
Over the next two years Mr Finlay said he had received no information or guidance from the trust, despite repeated attempts to contact them.
Former servicemen
The Buchanan Trust, administered by Herefordshire councillors, said it tried to specifically attract ex-servicemen by advertising in "suitable media".
In a statement it added that under the terms of the charitable agreement farms could be let to non-military farmers if no suitable ex-service personnel could be found.
Of the seven properties, just two are farmed by former servicemen.
One of them, John Barron, said he was supporting Mr Finlay's case after winning his own fight against eviction last year.
Mr Barron said that since Mr Finlay's approach in 2010 at least one farm had come up for renewal of rent.
Peter Buchanan, the nephew of the WWI soldier in whose memory the trust was set up, said he had met the Charity Commission to air his concerns about the way the trust was currently being run and added that he was hoping to meet the trustees soon.
Herefordshire Council said the terms of the trust, established in 1919 and in 1932, were often out of touch with 21st Century requirements.
The authority added that it was trying to extend the terms of the agreement to specifically include educational and training use, as well as for respite care and other forms of therapy, including care farms.
It added that it was also hoping to work jointly with other charities to make best use of the land.
The Charity Commission said it was working with the trust as it sought to review its structure and "new strategic plans".