Worcestershire narrowboat marooned travelling to Jubilee Pageant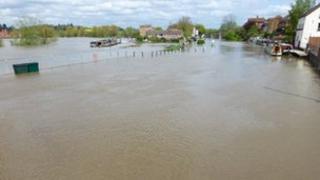 A Worcestershire couple travelling on a narrowboat to take part in the Thames Diamond Jubilee Pageant have become marooned due to high river levels.
Andrew and Wendy Dyke began the 216-mile trip from Evesham on Wednesday but have got no further than Tewkesbury.
Mr Dyke said: "We left early because of the drought problems, we never thought we'd be restricted by too much water."
He said they were still hoping to arrive in London in time for the Pageant rehearsals later in May.
Mr Dyke said the river levels were so high that it would be dangerous for them to continue their journey.
The couple, both Evesham Town and Wychavon District councillors, have become stranded on their boat, Lord Toulouse, on the River Avon side of Tewkesbury.
Different route
Mr Dyke said they must wait for the river levels to subside before being able to move off.
The Environment Agency said there were currently 37 flood alerts in the Midlands and a flood incident room has been set up in Tewkesbury.
Mr Dyke said they should have been in Droitwich by Monday and may well end up going back on themselves and taking a different route.
He said: "The shame of it is that we're representing Worcestershire and wanted to take in as much of the Worcestershire route as we could.
"We're perfectly safe, the only issue we will have later in the week is we'll need fresh water to drink - but for now we're sitting pretty."
Organisers expect about 1,000 vessels to take part in the pageant.
Two people rescued
On Sunday, firefighters were called to several incidents of trees falling down in Worcestershire.
One crew isolated electrics and removed a tree which had fallen on to the roof of a flat in Shenstone Close in Bromsgrove.
Another tree fell on to a house in Sutton Close, Redditch, while electric cables were affected when a tree came down in Church Lench.
Two other trees were brought down in Droitwich and Hadzor.
On Saturday, crews rescued two people and two dogs stranded in a car by floods in New Street, Upton-upon-Severn.