Anthrax tests negative after cow dies on Hereford farm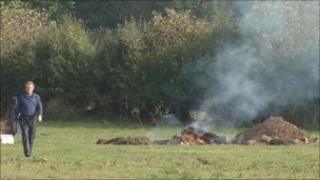 The results of tests for anthrax on a dead cow at a Herefordshire farm were negative.
Health officials from the environment department Defra have confirmed that the animal was not infected with the disease when it died in a field in Bartonsham near Hereford.
Samples were taken to a laboratory after the vet who first examined it was unsure as to the cause of death.
Defra said it was routine for tests to be done whenever a cow died in a field.
As a precaution, a public footpath near the site was closed on Thursday, but a spokesman for Herefordshire Council said it was now looking to reopen it as soon as possible.
Any suspected outbreak of anthrax must be reported to Defra.
In 2006, two cows died of anthrax at a beef farm in south Wales. In the same year, Christopher "Pascal" Norris died after inhaling anthrax spores from West African drums.