Volunteers to run Dilwyn Primary closed by council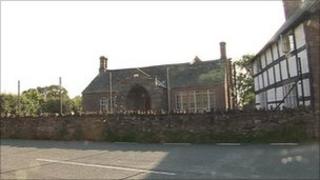 Volunteers are planning to run a school being closed by Herefordshire council.
Dilwyn CE Primary will reopen as a non fee paying independent school after it was denied academy status.
Councillor Phillip Price, cabinet member for education at the council, said he understood the academy decision was "disappointing news".
Head of the school, John Gerrish, said: "We have 155 years of tradition and the whole community was determined that this should not be killed off."
The school near Leominster, which has 30 pupils, uses a building owned by the church and teachers living nearby will give up their time for free when it reopens in September.
A decision to close the school was made by Herefordshire Council in November last year. The decision was ratified by the national Schools Adjudicator in March.
This week a final decision was made by Lord Hill, the Parliamentary Under-Secretary of State for Schools, that Dilwyn Primary would not be granted academy status.
The council said it had no further comment to make about campaigners' plans to reopen Dilwyn Primary.
People power
Mr Gerrish said: "We have a qualified team of very experienced teachers who will deliver a programme which will be outstanding for all the children concerned.
"We'll show how a small school totally by supported its community can deliver on its promises and give those children the chances they deserve."
Speaking about the central government decision, Mr Price from the council said: "I appreciate that this will be disappointing news for the parents and children who were planning to go to Dilwyn as an academy school in September.
"Our priority now is to help the families affected to find alternative schools for their children and make sure any transfers go smoothly so that there is no disruption to the children's education."
Mr Gerrish said campaigners were determined not to give up: "We shall attempt to prove that what we are doing is so valuable that our numbers will go up and possibly reapply for academy status or free school status."