Rickroll charity challenge derailed by Internet trolls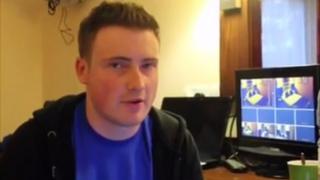 Internet trolls have derailed a man's challenge to spend four days locked in a room listening to nothing but Rick Astley's hit Never Gonna Give You Up.
In a Facebook video message around eight hours into his charity bid, Jack White, 23, said he had been inundated with abuse on his live Youtube page.
The trolls also attacked his seven-year-old nephew who has Type 1 diabetes and for whom Mr White is fundraising.
Mr White's brother James has taken over the challenge instead.
Mr White, a choir-master from Southampton, began the 75-hour lock-in with the 1987 hit Never Gonna Give You Up set to repeat, on Friday at noon.
He was due to finish at 15:00 BST on Monday, and estimated he would have heard the song at least 2,500 times by the end - all in aid of the Juvenile Diabetes Research Foundation (JDRF).
Astley had himself even lent his support by posting on Facebook: "This is the definition of crazy!! Good luck Jack, all the best".
But on Friday evening Mr White had to abandon his challenge.
In a video message he said: "The comments that flooded the live stream were some of the most difficult, offensive and rude things I have ever had to read.
"When my nephew tried to say hello to me via the stream and people started to attack him and JDRF, myself and the production team knew it was time to act".
His brother James has stepped in and is now continuing the ordeal, which also includes not speaking. not washing and living on a diet of porridge, rice and water.
Mr White has surpassed his £2,000 target, raising £2,482 by Saturday afternoon.