Vintage D-Day military vehicles depart for France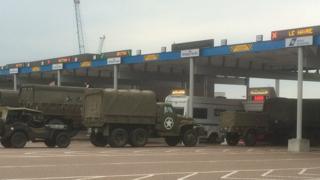 More than a hundred vintage military vehicles have embarked for D-Day anniversary events in France.
Motorbikes, jeeps, and lorries owned by members of the Military Vehicle Trust left from Portsmouth's ferry port.
They are due to spend 10 days in Normandy where events are planned to mark 70 years since the start of the Allied liberation of Europe.
Preston Isaac of the trust said it was important to "commemorate what went on".