Mike Hancock loses Portsmouth council seat to UKIP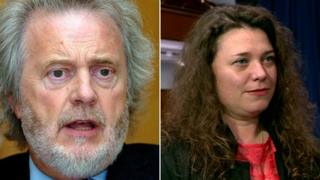 Portsmouth South MP Mike Hancock has lost his seat on the council to UKIP and the Lib Dems have lost control.
He was suspended from the Lib Dems in January after a report into claims of sexual misconduct towards a female constituent was leaked.
Mr Hancock, who denies the claims, decided to stand as an independent councillor for Fratton, and was not opposed by a Lib Dem candidate.
He was pushed into third place and his seat went to UKIP's Julie Swan.
Portsmouth City Council is now under no overall control, although the Lib Dems are still the largest party.
Mr Hancock, who stepped down from his seat on the cabinet of the city council in February, is facing civil proceedings by the constituent over claims he sexually assaulted her.
He won both his council ward and the Portsmouth South parliamentary seat by a comfortable margin in 2010.
Mr Hancock was first elected on to Portsmouth City Council in 1971 and has represented Fratton since 1973.
His wife Jacqui Hancock also lost her seat in the Charles Dickens ward to UKIP, giving the party a total of six seats in Portsmouth.
Elsewhere in Hampshire, the Conservatives held Gosport, Fareham, Rushmoor and Havant borough councils, while Labour remained in control of Southampton where the Lib Dems lost both their seats.
The Tories missed control of Winchester by one seat, where there is no overall control. They won 28, while the Lib Dems won 25, Labour won three and the Independents won one.
Hart remains under no overall control. The Conservatives won 14 seats, whilst the Lib Dems and Community Campaign (Hart) both won nine, there was also one win by an independent.
'Pug ugly' comment
UKIP gained their first two seats in Havant and one in each Gosport and Fareham. They also have three in Rushmoor.
Matt Ellery, a former UKIP candidate who was forced to stand as an independent, won a seat on Basingstoke and Deane Borough Council.
He was criticised after posting on Facebook that he "felt like stabbing someone" and also branded local women as "pug ugly".
He failed to attend the count and later tweeted "he had to be up early for work" and he did not hate women but "simply stated a fair few ugly people about not all women".
UKIP said it had since suspended him.
Basingstoke and Deane remained in no overall control but the Conservatives, whose constituency MP Maria Miller stepped down as culture secretary last month in a row over her expenses, remained the biggest party despite losing two seats.
In Eastleigh the Lib Dems defended all of the 13 seats they contested.
Even if they had been defeated in all of those seats, they could not have lost control of the council.
Speaking at the Eastleigh count, Lib Dem council leader Keith House said it was a "dirty trick" of UKIP to field their own Mr House in his ward.
UKIP's candidate used his middle name John rather than his first name Peter to ensure he was above the council leader on the alphabetical ballot paper, Mr House explained.
"That's politics," he said.
Voters also selected who represents the South East region in the European Parliament.
Those results will be announced late on Sunday.