First Army FA Cup match replayed in Aldershot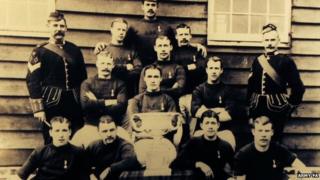 A landmark match in football's history has been re-enacted in Hampshire.
The first Army Football Association Cup Final was won by the Argyll and Sutherland Highlanders in 1889.
They beat the 2nd Battalion South Staffordshire Regiment by two goals to nil in the 1889 match, played at Kennington Oval.
In the latest match, the teams were selected from the modern day Scots Division and The Mercians. The Scots won 3-2.
Organiser Graham Brookland said: "We were very pleased with the event.
"Everyone entered into the spirit of things. It was received much better than we had thought it would be."
'Ground-breaking event'
The competition remains one of the world's oldest regular challenge cup fixtures, after the FA Cup.
Players from modern day regiments replayed the match in Aldershot using original rules and contemporary kit to mark the Army FA's 125th anniversary.
"Historically, the Army FA Cup is alongside the formation of the FA and the Football League - it really was a ground-breaking event at the time," added Mr Brookland.
The match at the Aldershot Military Stadium was played with the original rules - including "running throw-ons" and an early version of the offside rule.
The teams and "umpires" turned out in 19th Century style strips. The goalkeepers wore the same colours as the outfield players, with only caps to differentiate them.