Campaigners criticise Southampton Wool House pub approval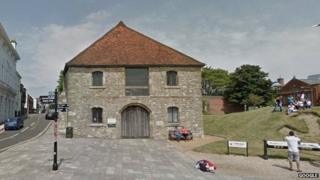 Campaigners have criticised a decision to approve plans to turn Southampton's former Maritime Museum into a pub.
The Wool House on Town Quay, which is more than 600 years old, was closed in 2011 and the artefacts moved to the new SeaCity Museum.
On Tuesday councillors approved plans to turn the site into a micro-brewery.
Joe Hudson, who set up a petition against it that was signed by more than 400 people, wants the Grade I-listed building to remain as an arts venue.
Stuart Cross, from applicant The Dancing Man Brewery, which owns the nearby Platform Tavern, said the conversion would provide "something new for Southampton" and create up to 30 jobs in the next five years.
But Mr Hudson said: "There was practically no acknowledgement of the former and very successful use of the space as a cultural hub only last year."
'Not a pub'
Elements Arts used the Wool House during the summer of 2013 to showcase local artists through exhibitions and performances.
"It was really tragic to see every member of the council simply give a little considered approval to the conversion of the unique cultural asset to a pub," Mr Hudson said.
"If we're talking about diversity, and within the area you already have half a dozen pubs and restaurants, then it's very hard to see how creating another one would add diversity."
But Mr Cross said: "It's not like your everyday pub and we don't want it to be called a pub.
"It's more like a brew-house with a restaurant and it's going to have a function room for weddings."
The Friends of Town Quay Park group also raised concerns that drinkers may spill on to a nearby grassy area and cause anti-social behaviour.
Chair Ros Cassy said: "We have fought for four years to protect the park for the quiet enjoyment of local people and visitors and don't want it turned in to a pub garden.
"Many local residents would have preferred a more cultural use for this wonderful historic building."
Southampton City Council has said it considers the plan "an innovative and sustainable use of a historic building that has seen a wide variety of uses in its 600-year history".
"The proposal will see the development of a popular and successful local business and support the local economy," it said.
"The Dancing Man Brewery is a keen supporter of local musicians and bands, an important part of our creative economy."