Isle of Wight badger poisonings: Man admits offence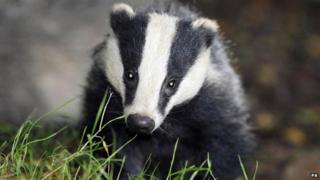 A man has admitted laying poison near badger setts on the Isle of Wight.
About 20 badger dens on land behind Boxers Lane, Niton, were investigated by police following the discovery of poison near a footpath in January.
Police said a 65-year-old man admitted laying the poison and was given a conditional caution. He also agreed to reimburse the RSPCA for the cost of clearing up the contaminated soil.
At the time of the poisoning, it was thought up to 12 badgers were affected.
But Paul Creer, from the Badger Action Group, said no bodies had been found, most likely because the animals would have crawled underground to die.
The badger setts are thought to be more than 100 years old.
A Hampshire Constabulary spokeswoman said: "While the implications of laying poison in badger setts upon the colony cannot easily be fully assessed, it is hoped the speed at which this was reported and the contaminated soil cleaned up has minimised the impact."