'Record number' of New Forest trees damaged in storms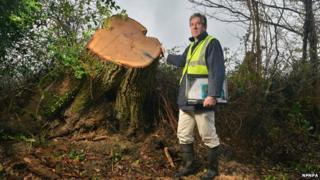 Tree experts in the New Forest are getting an "unprecedented" number of calls after the recent storms.
A "record number" of trees have been left damaged or felled by wind and rain according to the national park authority.
The authority's senior tree officer Bryan Wilson said his team had issued 160 notices for urgent work in just four months.
During the same period last years it issued 30 notices.
Mr Wilson said the situation was worse now than after the great storm of 1987, and the number of damaged trees was the highest he has dealt in his 25 years in the job.
'Snapped in half'
He said: "This is extreme weather by anybody's terms and a succession of storms with strong winds and continued rainfall has been going on since October with hardly any respite.
"It is worse than we had even in the 1987 and 1990 storms.
"Many trees have blown down or have lost branches."
He said the tree service telephone has been ringing "more or less continuously" over the last few weeks with requests from landowners seeking help and advice about their own or their neighbours' trees.
"One of the differences between this and the '87 storm is that most of the deciduous trees were still in leaf when that storm hit, so at this time of year there is less likelihood of a whole deciduous tree going over," Mr Wilson said.
"However we have particularly seen conifers badly affected, such as a Scots pine snapped in half 25ft up in the middle of a row of trees."
He said the New Forest had the greatest concentration of ancient and veteran trees in western Europe.
Around half the national park - designated a royal hunting ground by William the Conqueror in 1079 - is covered with woodland.