Portsmouth minister's project to boost maritime sector 'crazy'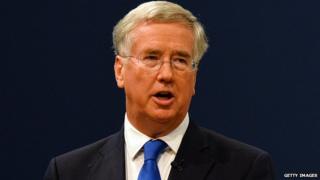 The Portsmouth minister has announced a project to attract investment in the Solent's marine and maritime sectors.
It comes after protest marches were held in the city over the decision to close its shipbuilding yard that will lead to 940 job losses.
The shipbuilders' GMB union representative Gary Cook dubbed the project announcement "crazy".
But, Mr Fallon said the project could "generate substantial investment in the local economy".
'Thousands still employed'
The research project, led by Southampton University, will focus on the Solent and will be used to promote its marine and maritime industries to investors - particularly those from overseas.
Business opportunities include those in maritime technology, marine science, leisure/work boats and marine renewable energy.
"The Portsmouth and Solent area has enormous expertise in marine and maritime engineering," Mr Fallon said.
"Despite the recent BAE shipbuilding announcements thousands of people are still employed locally by companies.
"We must use this strength to capitalise on new opportunities for growth."
The Tory MP visited Portsmouth earlier.
One of his appointments was with defence contractor BAE Systems, which announced the 900 plus job losses at the naval base in November 2013 - ending Portsmouth's 500-year shipbuilding history.
He was expected to "discuss the company's attempts to mitigate the impact of the job losses".
The GMB's Mr Cook had said Mr Fallon should speak to the workers at BAE Systems rather than the bosses, as the workers "are the ones losing their jobs".
Mr Fallon said he would speak to union representatives from UCATT, GMB, Unite and Prospect.
The first BAE job cuts will be made in March.
Mr Cook added that while he would welcome "any investment which would attract well-paid jobs", there was already an "important facility at the naval base".
"All we need is an order," he said. "You don't need to do any research.
"The skills and development opportunities are already there."
The report is due out in the spring.