Isle of Wight's Totland sea wall repairs 'to cost £2m'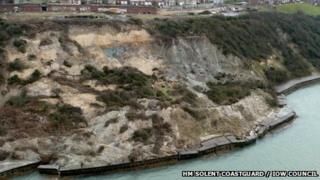 Repairs to a sea wall on the Isle of Wight, which was severely damaged by a landslide more than a year ago, will cost more than £2m to repair, the island's council has said.
The concrete promenade at Totland Bay collapsed and broke up in December 2012 after heavy rain triggered a landslip.
A report commissioned by the council found the 120m (394ft) section had been pushed forward 20m (66ft).
It warned "similar failures could not be ruled out" in the Totland Bay area.
The sea wall and coast path has remained closed since the collapse.
'Budget pressures'
The council said the preferred repair option - to build a sloped rock wall to absorb the wave action and a raised splash wall to protect the cliff base from waves overtopping the wall - would probably cost more than £2m.
Even if it attracted funding for the work, the authority said it would still need to find about £1.5m towards the overall cost.
The island's public protection councillor, Phil Jordan, said: "If a decision is taken to repair the seawall and re-establish public access to the area, the cabinet will need to consider how the Isle of Wight Council would be able to fund the repair costs in the context of the current severe budget pressures it is facing."
Save Our Totland Sea Wall campaigners submitted a 4,000-signature petition to the authority, calling for it to rebuild the wall. Petition rules state the matter must now be discussed by the full council.
An information event about the repairs will take place at Freshwater Memorial Hall on Wednesday from 14:00 GMT to 20:00 GMT.