Portsmouth parking wardens in workload and pay dispute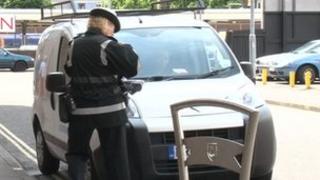 Parking wardens "working to rule" in a dispute over workload and pay have been told they will not be paid and are in breach of contract.
A number of Civil Enforcement Officers in Portsmouth have taken industrial action in response to increased duties.
Unite says their pay should be adjusted to account for extra duties and covering larger areas.
Portsmouth City Council says only a small number of parking wardens have taken part in industrial action.
It also confirmed parking regulations would continue to be enforced in both car parks and on roads across the city.
'Performance indicators'
Despite negotiations on Friday, action over the introduction of new working practices went ahead as planned.
Unite said 80% of members voted to take industrial action short of striking on a number of issues, including the imposition of "performance indicators" to increase the number of penalty charge notices they issue.
Those taking part wanted to issue tickets with notepads instead of electronic handheld devices in protest.
But the council refused to issue notepads, saying paper tickets were not available and would be unsuitable.
Unite regional officer Ian Woodland has urged the council to renew negotiations to address its members' concerns.
He said: "Our members have taken on a number of additional duties, but the council's job evaluation process has failed to give them confidence these are being fairly recognised."
Portsmouth City Council Head of transport, Simon Moon, said: "Officers have the opportunity to perform their job as usual with the electronic devices.
"Anyone refusing to do so will be partially performing their role, which is breach of contract and therefore they will not be paid."
Council leader, Councillor Gerald Vernon Jackson, acknowledged members' right to take industrial action, but that they had to be prepared to lose pay as a result.
He said: "The parking wardens who have applied to have their jobs re-graded have been through the process and haven't been successful.
"They don't appear to want to accept that situation.
"Technology moves on and we expect people to be able to work with that new technology.
"For people who say no to that, it means they're not prepared to do the job in the way that's expected."