Flood unit introduced for Isle of Wight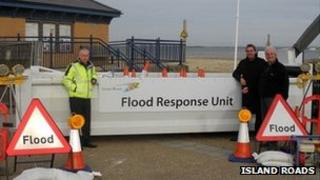 Specialised equipment to deal with flooding is being introduced on the Isle of Wight.
Island Roads' new Flood Response Unit includes a digger, floodlights, pumps and gel "sandbags" for rapid deployment in an emergency.
Paul Herbert, of Island Roads, said it was the only such dedicated unit in use in the UK and would make a "real difference".
Last month, parts of Cowes and Newport were flooded following high tides.
The unit, which can be attached to the back of a vehicle, includes a small 360-degree digger for lowering sandbags or digging out ditches to allow water to drain away.
It will also have new reusable gel sacks filled with a highly absorbent gel which expands when it comes into contact with water, as an alternative to sandbags.
Island Roads is a partnership between the council and private companies aimed at maintaining the Isle of Wight's highways under a Private Finance Initiative scheme.