Acorn glut kills New Forest ponies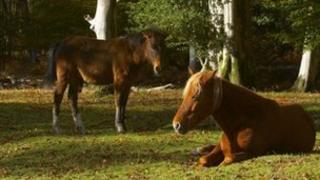 The number of New Forest ponies and cattle thought to have died as a result of eating acorns has jumped dramatically because of a bumper crop.
Forest verderers said about half a dozen animals usually succumb to the poisonous seeds each year but 31 have died so far in 2013.
Acorns contain toxic tannins that are poisonous to some animals including horses, cattle, goats and sheep.
A spokeswoman said more animal deaths were anticipated in the coming weeks.
Pigs, which can eat large amounts of acorns with no ill effect, are released into the forest for 60 days each year to eat fallen acorns, beech mast and chestnuts.
'Mast years'
The historical right of releasing pigs onto common land to eat nuts is known as "pannage".
The pannage season, which should have lasted from 9 September to 7 November, has been extended until 15 December, following agreement with the Forestry Commission.
Oaks and other fruiting trees generally have "mast years", meaning they have a much larger crop, every two to five years.
Sue Westwood, clerk to the Verderers of the New Forest, said: "There's nothing you can do, apart from the pigs - the New Forest has got oak trees all over it."