Council probe into Mike Hancock MP's conduct to continue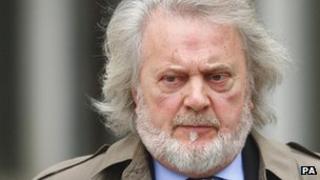 A council investigation into allegations against Portsmouth South MP Mike Hancock will continue, despite his refusal to give evidence.
Mr Hancock, also a city councillor, is being sued in a High Court civil action by a female constituent who contacted him for help over a neighbour dispute.
The MP vigorously denies allegations that he indecently assaulted her.
He had wanted Portsmouth City Council's investigation into his conduct delayed until court proceedings had concluded.
But the council has now decided the inquiry will go ahead anyway.
Mr Hancock, 67, has said he "completely refuted" the allegations against him.
Never charged
A city council sub-committee decided in March to refer for investigation a complaint made against Mr Hancock, who has been Portsmouth South MP since 1997.
Mr Hancock was arrested on suspicion of indecent assault in 2010 in connection with the allegations. He was never charged as the Crown Prosecution Service said there was insufficient evidence.
In June he resigned the party whip and said he was stepping down from the Liberal Democrats temporarily while he contested the allegations of sexual assault.
Mr Hancock was in the news in 2011 when he had an affair with his aide Katia Zatuliveter, who was accused of being a Russian spy.
The Special Immigration Appeals Commission said it had seen nothing to support the allegations against Miss Zatuliveter and she won an appeal against deportation.