New Forest animal road deaths increase 'significantly'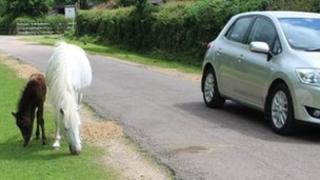 The number of road accidents in the New Forest involving animals has increased "significantly", the national park authority has said.
Forty one animals were killed or hurt between January and June, compared with 24 in the same period last year.
Sue Westwood, clerk to the Verderers, responsible for New Forest ponies, blamed a "complete lack of awareness or consideration" by motorists.
The overall trend in accident and death rates had been falling.
Recorded incidents fell to an all-time low in 2012, with 135 accidents, 18 injuries and 64 deaths.
So far this month, the Verders have received reports of 10 accidents in which four animals have been killed and two injured.
The New Forest National Park Authority said initiatives such as reflective pony collars, warning signs and enforcing the 40mph speed limit would continue to be implemented.