Andy Murray victory leap yachtsman rescued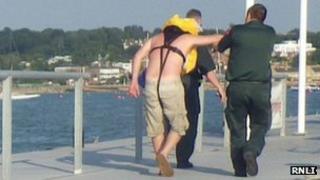 A man ended up in hospital after he dislocated his shoulder when he leapt from a yacht in celebration of Andy Murray's Wimbledon win.
The 45-year-old ended up in "great pain" after the victory leap from his friend's yacht, Bliss, which was moored in Newtown Creek, Isle of Wight.
He swam back to the boat before an RNLI crew took him to a waiting ambulance.
The man told rescuers he had previously dislocated his shoulder on the yacht during St Patrick's Day celebrations.
He managed to put his shoulder back in without the need of outside assistance on that occasion, the RNLI said.