Hampshire sickness man sues P&O Cruises after Oriana trip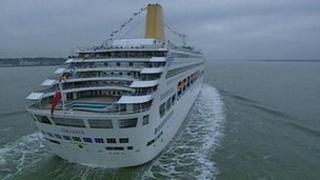 A grandfather who spent his birthday suffering "violent" sickness and diarrhoea onboard a cruise ship has said he is suing the travel company.
David Brown, of Lee-on-the-Solent, booked the cruise on P&O's Oriana to celebrate his 67th birthday.
During the Mediterranean trip, between 27 May and 9 June, he claims the toilets were dirty and there was a "strong smell of sewage".
P&O Cruises, which operates the ship, said it was investigating the claims.
Mr Brown and his wife, who accompanied him on the cruise, have instructed lawyers Irwin Mitchell to seek compensation from P&O Cruises.
The firm is currently representing more than 30 clients following two outbreaks of suspected Norovirus onboard the Oriana in December last year and March this year.
'Very disappointed'
Mr Brown, who fell ill on the penultimate day of the trip, said: "We were aware of the previous illness outbreaks in December but thought every step would have been taken to clean the ship, and ensure it was safe for future passengers.
"We did notice that the toilets were dirty as we boarded and were later shocked by the strong smell of sewage."
He said at one point his toilet did not work properly for 24 hours and he repeatedly complained to maintenance staff about the problem.
"It was poor and not what we expected from a P&O cruise," he said.
He added: "I fell violently ill with sickness and diarrhoea on my actual birthday and it was horrendous, and from speaking to other passengers it seems there were many others who were also ill.
"I am very disappointed that our holiday ended so badly but also concerned for the safety of other passengers."
He added he wanted to find out what health and safety procedures were carried out after the previous outbreaks.
He also said he wanted reassurance that improvements have been made to try and prevent future outbreaks.
A spokeswoman for P&O Cruises said investigations were taking place into Mr Brown's claims and it did not want to make any further comment at this stage.
The company apologised to more than 400 passengers on Oriana last December who suffered diarrhoea and vomiting during a 10-day Baltic cruise.