New Forest National Park bus tour drivers given horse safety advice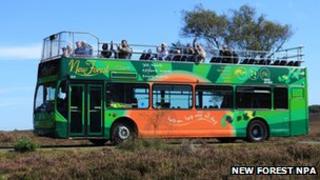 Drivers of an open-top tourist bus service in the New Forest have been issued with road safety advice after concerns raised by horse owners.
The New Forest Tour shuttles visitors between beauty spots within the national park.
But members of the New Forest Equestrian Association have reported some drivers getting too close to riders and horses.
The bus operator said drivers had been made aware of the issues.
New Forest Tour operations manager Gary Rose said drivers had been advised about staying a safe distance from horses and livestock in the roads around the forest.
He insisted the drivers on the summer-only service were experienced in driving on rural routes.
'Spooked by anything'
Phil Cramer, owner of Burley Villa riding school, said he had reported a couple of incidents near his horses.
"Drivers could have driven better, with a bit more space and courtesy. I just want to stop an incident becoming an accident.
"Horses aren't used to seeing double decker buses around the forest, they can be spooked by anything taller than them," he said.
He added that he hoped the issues were "teething problems" for the service which he described as "ideal" for the New Forest.
The service is supported by a £3.8m Department for Transport (DfT) fund which aims to encourage car-free journeys in the New Forest and South Downs national parks.
Dr Tony Hockley, of the New Forest Equestrian Association, said it would be "a huge irony" if a bus tour, designed to show off the forest, endangered livestock.
"Just the noise of the air brakes or a bus travelling at speed over a cattle grid can spook a horse."