Royal Navy sailor Kevin Moffat found guilty of rifle threat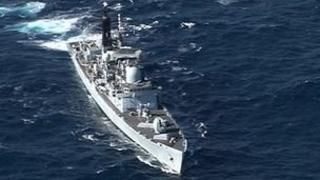 A sailor has been found guilty of threatening a superior officer with a rifle on board a Royal Navy ship.
At a court martial in Portsmouth, Leading Seaman (Above Water Warfare) Kevin Moffat, 45, had denied a charge of unlawful possession of a firearm.
Moffat took an SA80 service rifle and three rounds of ammunition into the cabin of executive officer Lt Cdr Robert Williams on HMS Edinburgh.
The court martial heard he was concerned over a request for leave.
During the court martial, Wing Cdr Andrew McKendrick, prosecuting, told the trial the Royal Navy sailor, originally from Edinburgh, had been drafted at short notice to serve onboard the now-decommissioned Type 42 destroyer, last summer. The ship was due to visit the Falkland Islands.
Missed birth
In September, Moffat, who now lives in Gosport, Hampshire had become worried because his partner was due to give birth in January this year and he had not had a request for leave confirmed.
He had missed the birth of another child five years before.
The court heard he went to the officer's cabin while the ship was alongside in Lisbon, Portugal and told Lt Cdr Williams: "Sir, you know me, this is a loaded weapon and it's cocked. I want to talk to you."
Lt Cdr Williams asked him to hand over the rifle to another rating who was outside the cabin, which Moffat did. It was later found not to be loaded.
After the guilty verdict, defence lawyer Matthew Farmer said Moffat had a "perfect psychological storm in his head" when the incident happened and it was not likely to happen again.
The judge advocate Robert Hill said he had been found guilty of "conduct of a very serious nature towards a senior officer".
Moffat will be sentenced at a later date. The maximum term for the offence is 10 years in prison.