Water voles return to River Meon in Hampshire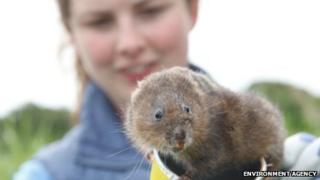 Water voles are being reintroduced to a Hampshire river five years after the species was wiped out in the area.
Up to 500 water voles are being released into the River Meon at Titchfield Haven National Nature Reserve (NNR) over the next week.
The mammal has not been recorded in the Meon Valley for at least five years and is considered "locally extinct", said South Downs National Park Authority.
Factors, including loss of habitat, are thought to be behind its disappearance.
The water vole is the UK's most rapidly declining mammal, the authority added.
'Ambitious project'
Pollution and the presence of non-native American mink are also attributed to falling populations.
Meon Valley Partnership has been running a mink trapping programme since 2009.
As a result, the stretch of river where the water voles are being released has been "mink-free" since January 2012.
Elaina Whittaker-Slark, a South Downs National Park ranger, said: "This is an ambitious project on the largest scale ever attempted in this country.
"We hope that in the future we'll have water voles back and thriving from the source [of the river], in the heart of the South Downs National Park, its tributaries and along the length of the Meon Valley."
A second release of about 250 water voles is expected to take place at the same location later this year.
Surveys and further releases at this, and other sites along the river, will then take place between April and July over the next three years.
South Downs National Park Authority, Environment Agency, Natural England and Hampshire and Isle of Wight Wildlife Trust are funding the work.
The project is also supported by Portsmouth Water and Hampshire County Council.