Isle of Wight's Totland sea wall 'to stay closed until 2015'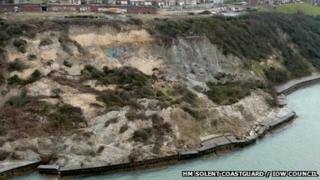 A sea wall on the Isle of Wight coast that was severely damaged by a landslide in 2012 may remain closed to the public for a further two years.
Patrick McLoughlin, secretary of state for transport, has approved the closure of Totland sea wall until July 2015.
But Isle of Wight Council said it would appoint consultants to draw up options for the wall's future.
Jon Gilbey, cabinet member for resources, said the date was a "worst case scenario".
He added: "A significant amount of damage was caused to the wall when the landslip occurred. As people can see from photos taken in the period after, this is not something that can be quickly repaired.
"We would again remind people that the land at the sea wall is still moving and is very dangerous. The closures are there for your safety."