Delia Hughes murder: Alleged killer 'had no feelings'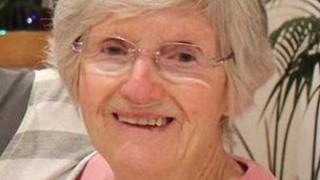 A man accused of murdering a great-grandmother was severely depressed and had "no feelings", a court has heard.
Delia Hughes, 85, was beaten to death in her Southampton home on 18 August last year.
She had been struck on the head at least eight times.
Jamie Boult, 25, of Chessel Crescent, Southampton, denies murder. He is also on trial for an aggravated burglary at another property.
On the second day of the trial at Winchester Crown Court, Home Office pathologist Basil Perdue said Mrs Hughes had suffered an "overwhelming number of blows to the head" with a lump hammer.
The jury was previously told Mr Boult had confessed to her killing.
'Mood swings'
Consultant psychiatrist Dr Dai Powell said Mr Boult had a "social phobia and as a result suffered from depression which made it very difficult to make friends and he even found it difficult to talk to his own family."
He told the court by the age of eight Mr Boult was eating alone in his room and had dropped out of school by the age of 13.
He had applied to join the army at the age of 18 but was rejected on medical grounds.
The jurors heard Mr Boult was "looking for a way out" and had self-harmed and turned to drinking cider.
Dr Powell told the court the defendant wanted to "hurt someone to release the pressure".
Dr Mohammad Amjad treated Mr Boult after his arrest.
He told the court the defendant seemed to have been suffering from the symptoms of a personality disorder, was self-harming, had mood swings and was prone to violent outbursts.
He described him as "severely depressed".
Psychologist Zaid Alabassi said Mr Boult appeared to have "no feelings" and had been having difficulties in his relationship with his mother, who he lived with in Bitterne.
Jurors were earlier told Mr Boult was arrested on 16 September after he smashed the window of a police car at Bitterne police station and began cutting his arms with scissors.
Mrs Hughes, a great-grandmother, widowed in 1993, had been trying to sell the Ocean Village flat to move in with her daughter.
The trial continues.