Delia Hughes murder accused 'hid in bedroom'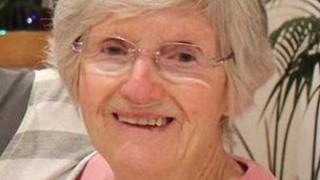 A man lay in wait in the bedroom of an elderly woman's flat before killing her with a lump hammer and stealing her jewellery, a court has heard.
Delia Hughes, 85, was beaten to death in her Southampton home on 18 August last year.
She had been struck on the head at least eight times.
Jamie Boult, 25, of Chessel Crescent, Southampton, denies murder. He is also on trial for the aggravated burglary of another property.
On the opening day of the trial at Winchester Crown Court, Mr Boult was described as a recluse who received disability benefits, having been diagnosed as suffering from a "social phobia" since he was 13.
He was arrested on 16 September after he smashed the window of a police car at Bitterne police station and began cutting his arms with scissors, jurors were told.
William Mousley QC, prosecuting, said after his arrest, Mr Boult confessed to the killing, telling police: "I have been thinking about doing something to somebody for a while."
'Up all night'
Mr Mousley said: "His plan was probably to hurt somebody. He said he chose Delia Hughes' flat because the door was open.
"When he saw the door was open he intended to kill whoever was in there and when he hit Delia Hughes he intended to kill her and when he left he thought she was dead."
Mr Mousley said, the night before the killing the defendant had been up all night drinking cider.
After killing Mrs Hughes, Mr Boult discarded the hammer in undergrowth and went home, jurors were told.
Mr Boult is also accused of burgling a house near his home while armed with an axe four days earlier but no-one was home at the time.
Mr Mousley said, when asked by police what would have happened if anyone had been in the house, Mr Boult replied: "I would probably have killed them."
Mrs Hughes, a great-grandmother, widowed in 1993, had been trying to sell the Ocean Village flat to move in with her daughter.
The trial continues.