Portsmouth's Pyramids leisure centre will remain open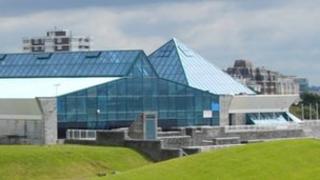 Portsmouth's Pyramids centre is to be taken over by a new company.
The council-owned leisure centre had been under threat as the authority considered whether to demolish it or accept bids from outside operators.
At a special cabinet meeting on Monday, councillors voted unanimously for a preferred bidder to run the centre.
A report published on the council's website seemed to suggest the preferred bidder was BH Live, operator of leisure and concert venues in Bournemouth.
Council leader Gerald Vernon-Jackson said he did not know the identity of the operator and it would not be confirmed until contracts were signed.
He said during the bidding process councillors only knew the options as bidder A, B, C, and so on.
'Cheapest bid'
The council's report said the preferred bid was from a not-for-profit provider of leisure services to another council.
It said the bidder's vision was about "creating opportunities, inspiring people and enriching lives" - the mission statement of BH Live, which operates Bournemouth International Centre (BIC), Bournemouth Pavilion and four leisure centres in the town.
Mr Vernon-Jackson said: "Of all the bids, it scored highest financially - it was the cheapest bid.
"In terms of quality, it scored highest on that as well."
When asked why the cheapest option - to demolish the centre - was not chosen, he said: "There are 140 jobs at the Pyramids and we did not want all those people to lose their jobs - 8% of all the jobs in the city are based on the visitor economy so we don't want to take attractions away."
He said visitor numbers at the centre were up considerably in 2012 compared with 2011.
The bid, according to the report, would save the council £800,000 over five years.
In February, Portsmouth City Council agreed to cut its budget for 2012/13 by a further £9m, on top of £8m cuts agreed in December.