Ofsted to inspect Isle of Wight Council's school standards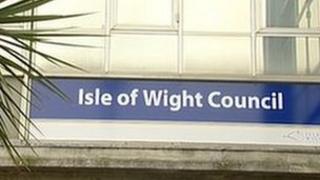 Inspectors are visiting the Isle of Wight council amid fears it is failing to help its schools raise standards.
Education watchdog Ofsted is assessing whether the council is offering schools enough support, promoting high standards and fair access for all.
The five-day visit comes after four of the island's six secondary schools were rated "inadequate" in their last Ofsted report - the lowest grade.
Another school "requires improvement" with the sixth rated "good".
The percentage of pupils achieving five or more GCSEs at A* to C at schools on the Isle of Wight is 45%. The national average is 59%.
The Isle of Wight and Norfolk are the first two areas in England to face Ofsted's new school improvement inspections.
'Serious concerns'
Chief inspector Sir Michael Wilshaw said: "Recent school inspections on the Isle of Wight have raised serious concerns about the effectiveness of the council's support.
"In both cases, many school leaders have expressed the view that their local authority is not doing enough to challenge their institutions to improve."
A new Isle of Wight Council administration was formed following last month's election by a group of 20 independent councillors, inheriting a previously Conservative-led council.
Councillor Richard Priest, cabinet member for children's services, said: "We fully recognise the areas Ofsted has identified to address weaknesses.
"We expect more challenging news in the coming months, but we're determined to do something about it.
"We're very clear that the way forward will be collaborative working that puts children first."
Two new school campuses are set to open in September, in Cowes and Shanklin.
Ofsted will not be using the same school grading-scale for the council inspection. It will report strengths and weaknesses along with recommendations of where to improve standards.
The report will be sent to the secretary of state for education and the council once published.