JMW Turner's Winchester City Mill painting 'discovered'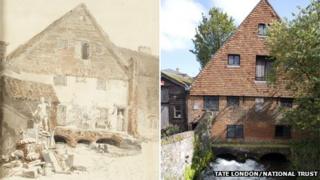 A copy of a painting of Winchester City Mill by JMW Turner has gone on display in the building after a chance discovery by the National Trust.
The trust, which runs the mill, had been unaware of the watercolour's existence when it was spotted in Tate Gallery's London digital archive.
Ric Weeks, the mill's assistant manager who made the discovery, described it as "unbelievable".
The original was painted by Turner in 1795 while touring the south coast.
'Little change'
Mr Weeks said he found the 26 x 20 cm (10 x 8 in) painting during a "casual browse" of the Tate's recently digitised archive.
He said: "It is amazing how little the building has changed, and it's wonderful to think that this world-famous artist once stood outside my place of work and sketched it over two centuries ago.
"To find an old painting of the mill is fantastic, but for it to be by Turner is unbelievable."
The painting forms part of Turner's Isle of Wight Sketchbook - a collection of drawings and paintings from when he was a student at the Royal Academy in his early 20s.
The print of the original has now been produced and is hanging in the mill.