Southern Health NHS Trust workers face 'pay cut'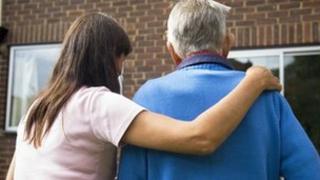 Care workers across the South will see their incomes fall by thousands of pounds under NHS plans to restructure their pay, the BBC has learned.
Carers in Hampshire, Oxfordshire, Dorset and the Isle of Wight would lose up to £3,600 a year in unsocial hours payments under the plans.
Southern Health NHS Foundation Trust, which employs the carers, said the cuts were necessary to protect services.
Unison said it was "very concerned" and that the cut to pay was "colossal".
More than 840 staff working for TQtwentyone, the social care division of Southern Health, look after about 1,000 people with learning disabilities for councils across the South.
The workers make visits to cook, clean, sleep over and accompany service users on activities.
Southern Health is looking to slash unsocial hours payments for services such as sleeping over and working weekends.
Figures obtained by BBC health correspondent David Fenton show this would result in a 20% reduction in take-home pay for some of the 1,500 workforce.
More than 240 would lose more than £3,600 a year, about 500 would lose £1,200 a year and more than 100 would see a £1,000 cut.
This would amount to about £3m of savings for the NHS trust, our correspondent said.
Social care division director Debbie Robinson said: "Unfortunately we find ourselves in a situation where our income doesn't match our expenditure and that poses a serious risk to the sustainability of our service."
She added staff were being supported in this "unsettling period of change" and that basic pay remained unchanged.
Unison spokesman Mike Wilson said it would consider balloting for industrial action.
He said he recognised the firm was facing financial difficulty but a 20% cut in pay was "colossal".
According to Unison the hourly workforce cost for TQtwentyone was about £18.40, whereas the price which councils were prepared to pay for social care was about £15.50 an hour in total cost.