Stanbridge Earls School inspection finds pupils 'remain unsafe'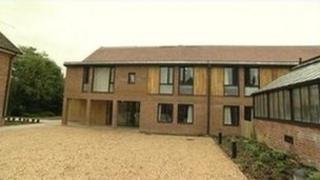 A school criticised for its handling of a pupil's claim that she was raped by students could face closure after a report found children remain unsafe.
A second inspection of Stanbridge Earls School near Romsey said it was failing to meet national minimum standards.
Watchdog Ofsted has called on the Department for Education to ensure the school's leadership is immediately improved - or close it.
The school has said it does not accept the terms of the Ofsted report.
'Continuing weaknesses'
The three-day emergency inspection at the school for children with special needs took place after an action plan for improvement was rejected by the DfE.
It followed serious failings uncovered in a previous inspection, which was conducted after an educational tribunal raised "grave concerns" about safeguarding.
Tribunal members accused the school in January of failing to protect a pupil who claimed to have been raped twice by fellow students.
It was also found to have discriminated against the pupil, who cannot be identified for legal reasons, by excluding her following the allegation.
Inspectors found during the second inspection that some improvements have been made to help safeguard pupils.
But two "significant" incidents since the last inspection were not managed effectively and left children at "potential risk of harm".
Details of the incidents have not been revealed but inspectors said risks were not fully recognised or assessed by school staff including senior managers.
The report said urgent improvements called for by Ofsted have not been made due to a lack of "clear and incisive" leadership.
It states: "As a consequence of continuing weaknesses with leadership and governance, children remain unsafe at this residential special school."
Head teacher Peter Trythall resigned last month and an interim head teacher was appointed last week.
The DfE said the school responded "swiftly" to Ofsted's findings.
A spokesman said: "An interim head teacher with significant experience has been appointed and took post on Tuesday 14 May.
"Officials from the department and Hampshire County Council visited the school this week and met with the interim head and chair of trustees to discuss their plans for further improvements.
"Ofsted will inspect the school again in June. We will consider whether the school has made sufficient progress at that point."
'Flawed report'
A statement from the school's board of governors said the report contained "significant errors and omissions" which it had already raised as an official complaint with Ofsted.
It said the report did not take into account that the school had announced it was appointing a new head teacher on 10 May.
"Publishing such a flawed report will gratuitously unsettle the school's pupils - most of whom have learning difficulties - at a time when many are sitting public examinations," it said.
Meanwhile regulator the Charity Commission is conducting an inquiry into the school.
And Hampshire Constabulary is probing its officers' handling of the pupil's allegations and investigating whether offences were committed against other children attending the school.